White Velvet Strawberry Shortcake: An incredibly simple but delicious version of strawberry shortcake on the lightest, most moist homemade white cake you've ever tried.
This version of Strawberry Shortcake was one I did not intend to post as a stand alone recipe. It sort of happened by accident. Really it is 2 different recipes from this blog combined into one.
First of all let, me explain. We make a LOT of different versions of Strawberry Shortcake around here. It is a real family favourite, especially of my daughter Olivia's. Her birthday cake is almost always a strawberry shortcake of some kind.
Here are some of the versions that have been previously featured here on Rock Recipes.
White Chocolate Strawberry Shortcake
Chocolate Biscuit Strawberry Shortcake
The Ultimate Strawberries and Cream Cake
2 layer Chocolate Strawberry Shortcake
Strawberry Custard Angel Food Shortcake
So, you can see we like really like our strawberry shortcake around here. When a friend recently saw me post one of our real standby quick and easy version of Sweet Biscuit Strawberry Shortcake this week, she said she planned to use the idea but on vanilla cake instead.
I told her that we most often use the whisk attachment on my stand mixer to make a very light sponge cake for it but she wasn't a fan of the texture of Old Fashioned Sponge Cake. She said she just wanted a nice light regular homemade cake. Without even thinking I said, "You'll want to make it with my White Velvet Cake in that case".
Ever since I said that, I had been think ing about it and wanting to try it for myself. The sweet strawberry syrup that naturally occurs from macerating sliced strawberries in sugar would soak easily into that cake in the way I love.
With an abundance of strawberries from Nova Scotia now in season, I couldn't help but try it and I wasn't disappointed. The cake is light and moist and full of vanilla flavour and soaks up that syrup beautifully. I know it won't be the last time I make it this way.
I also baked this cake as a sheet cake in a 9 x 13 baking pan rather than two 9 inch Round Cake Pans. This makes it less fussy and more casual for dessert a a summer barbecue or cookout. You can also whip the cream beforehand and take it along with the macerated strawberries to picnics as well.
I just keep wondering…have I come to the end of possible versions of Strawberry Shortcake? Watch this pace…I have a cheesecake idea that I have to get out of my system too!
LIKE THIS WHITE VELVET STRAWBERRY CAKE RECIPE?
You'll find hundreds of other sweet ideas in our Cakes & Pies Category and even more in our Desserts Category.
It's easy to keep up with the latest home style cooking & baking ideas from Rock Recipes. Be sure to follow Rock Recipes Facebook Page and follow us on Instagram.
Plus you'll see daily recipe suggestions from decadent desserts to quick delicious weekday meals too.
You can also sign up for our FREE newsletter to know immediately when we add new recipes. You'll also get weekly suggestions for great family friendly meals and desserts too!
For a very white cake, I recommend using just egg whites as instructed in the recipe. I also use a concentrated clear Natural Vanilla Extract, like commercial bakeries sometimes use. Avoiding egg yolks and dark vanilla will make for the whitest cake like in the photo for this recipe.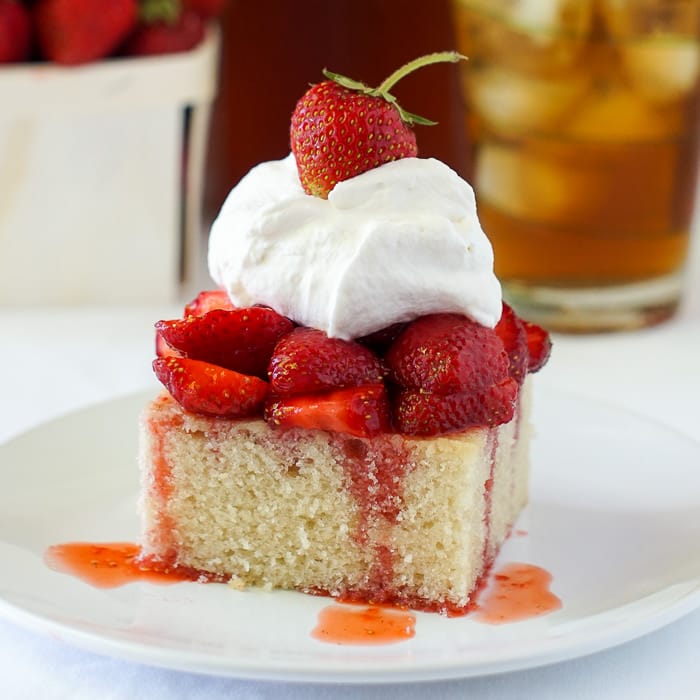 White Velvet Strawberry Shortcake
White Velvet Strawberry Shortcake – an incredibly simple but delicious version of strawberry shortcake on the lightest, most moist homemade white cake you've ever tried.
Ingredients
For the White Velvet Cake
For the Macerated Strawberries
For the Vanilla Whipped Cream
Instructions
To prepare the White Velvet Cake
Sift together both flours, baking soda, baking powder, salt and sugar. Set aside.

Grease and flour a 9 x 13 inch baking pan.

In the bowl of an electric mixer beat together the vegetable oil, shortening and vanilla. Beat well at high speed with whisk attachment until light and fluffy.

Beat the eggs in one at a time.

Fold in the dry ingredients alternately with the buttermilk.

I always add dry ingredients in three divisions and liquid ingredients in 2 divisions. It is very important to begin and end the additions with the dry ingredients. Do not over mix the batter. As soon as it has no lumps in the batter, pour into the prepared 9 x13 inch pan.

Bake at 325 degrees F for 40-4 minutes or until a wooden toothpick inserted in the centre comes out clean. Allow the cake to cool in the pans for 10 minutes before turning out onto wire racks to cool completely.

I've frosted this cake with Marshmallow Frosting but any good vanilla frosting is great on this cake. Find the frosting recipe with our Black and White Cake.
To prepare the strawberries
Wash and hull the strawberries and place them in a glass bowl.

Sprinkle the sugar onto the berries and toss well.

Leave to macerate together for about an hour. tossing the berries in the sugar/syrup occasionally. This step draws some of the juice from the berries to form a sweet strawberry syrup.
To prepare the Vanilla Whipped Cream
Whip the cream, icing sugar and vanilla extract together to firm peaks.

When ready to serve, cut the cake into 12 or more portions/

Spoon some of the macerated berries onto each cake portion, as well as some of the strawberry syrup, followed by some of the whipped cream.

Garnish with a whole fresh berry.